May 29, 2013
Washington Art Consortium donates more than 200 Safeco Art Collection artworks to the Museum of Northwest Art and the Museum of Glass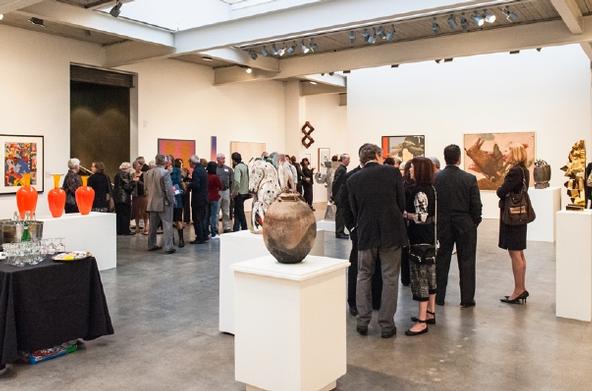 The Washington Art Consortium, a cooperative of seven Washington State Museums, today announced it has donated more than 200 artworks originally from the Safeco Art Collection to the permanent collections of the Museum of Northwest Art (La Conner) and Museum of Glass (Tacoma).
In 2010, Safeco Insurance, a member of Liberty Mutual Group, made a historic gift of over 800 works to the Washington Art Consortium from the Safeco Art Collection, the oldest and most renowned corporate collection of exclusively Northwest art. The Consortium spread these artworks to their members across the state, distributing them to each museum's permanent collection.
After understanding that some of the artworks from this donation did not meet the collecting parameters of its member museums, the Consortium sought out other museums in Washington State. Instead of selling the artworks, the Consortium decided that offering them to other museums in the region would better forward both their and Safeco Art Collection's respective missions.
"By placing artwork in permanent collections across the state, the Washington Art Consortium is honoring the history and Northwest artists of the original Safeco art collection," said Matt Nickerson, president of Safeco Insurance. "We are thrilled to see a legacy of art investment continue to enrich our local communities."
Along with the gift of art , the Consortium is also donating a mone tary gift to offset administrative costs and help provide ongoing care for the collection. Both donations not only ensure the artworks will be preserved into the future, but also continues the Safeco legacy throughout our Northwest communities.
"The Museum is grateful for this important gift which strengthens its holdings in Northwest glass..." said David Francis, Curator at the Museum of Glass. Christopher Shainin, Executive Director at the Museum of Northwest Art, added, "These new additions will highlight the strength and diversity of Northwest art, and deepen MoNA's current collection. We look forward to the public's enjoyment of these works and to the many discussions they will encourage."
The donation includes works of art from artists such as Margaret Camfferman, Everett Dupen, Paul Havas, William Hoppe, LaVerne Erickson Krause, and Richard Royal.
A portion of the donated artwork will be included in the Museum of Northwest Art's exhibition Reflections – beginning June 29, 2013.
"As a Washington-based company, Safeco hoped that this gift would stay in our Northwest communities," said Patricia Leach, Consortium Board President. "The Washington Art Consortium is proud to fulfill that wish. We strongly believe in both the Museum of Northwest Art's and Museum of Glass' ability to display and steward these artworks for generations to come."
About Safeco Insurance
In business since 1923 and based in Seattle, Safeco sells insurance to drivers and homeowners through a network of independent agents and brokers in eight regions throughout the U.S. Safeco is part of Liberty Mutual Agency Markets, a business unit of Liberty Mutual Group, consisting of property and casualty and specialty insurance carriers that distribute their products and services primarily through independent agents and brokers. Liberty Mutual Group ranks 86th on the Fortune 500 list of the largest U.S. corporations based on 2008 revenues.
About the Washington Art Consortium
The Washington Art Consortium (WAC) is a unique non-profit cooperative comprised of the seven major art museums located in four main urban centers and three primary universities in Washington State.
The first organization of its type in the nation, the Consortium began in 1975 when its founder, Seattle philanthropist and modern art collector Virginia Wright, worked with five Washington State museums to apply for separate grants to the National Endowment for the Arts for funds to purchase art. The idea was novel and ambitious: an art collection that would not belong to one museum, but would be jointly held by many. Today the Washington Art Consortium lends it shared art collections to members and nonmembers alike.
Members
Henry Art Gallery, University of Washington, Seattle; Museum of Art, Washington State University, Pullman; Northwest Museum of Arts and Culture, Spokane; Seattle Art Museum, Seattle; Tacoma Art Museum, Tacoma; Western Gallery, Western Washington University, Bellingham; and Whatcom Museum of History and Art, Bellingham.
About the Museum of Northwest Art
The Museum of Northwest art was founded in 1981 by Art Hupy, originally to exhibit the work of four artists with strong connections to the Skagit Valley: Guy Anderson, Kenneth Callahan, Morris Graves, and Mark Tobey. Its mission has sense broadened to collect, preserve, exhibit, and interpret the art of the Northwest through a variety of exhibition, education, and publication programs. For more information, visit www.museumofnwart.org.
About the Museum of Glass
The Museum of Glass provides a dynamic leaning environment to appreciate the medium of glass through creative experiences, collections, and exhibitions. The Museum exhibition schedule includes works by internationally known artists who illuminate trends in contemporary art. For more information, visit www.museumofglass.org.